by guest blogger Robyn Jasko, cofounder of Grow Indie
I'm now 39 weeks pregnant and, I'll tell you, it's hard to have a "green" baby these days. From the high environmental impact of disposable diapers to the truckloads of stuff you need to get ready, these little bundles of joy can have quite the impact on the earth. After lots of research, here are my favorite ecofriendly ways to lower your carbon footprint, save money, and get ready for your baby without ruining the planet:
1. Secondhand Encore Registry
A warning to new parents-to-be: Babies are like teeny-tiny stuff magnets. Somehow, all of sudden, this little person will need more stuff than you and your husband combined. Strollers, car seats, clothes, bottles, changing tables, toys, pack-and-plays—babies even need their own sock drawer. It all starts to add up, and the environmental and monetary costs of having a new little consumer can quickly overwhelm you, especially when you realize that some of the things you'll need for your baby are only used for a few months. Enter Encore Registry, a lifesaver for anyone wanting to cut down on the consumerism associated with having a newborn. Instead of a traditional registry where you associate your baby shower wish list with a particular store, Encore lets you make a wishlist of items, which can be handmade, new, used, or passed down, so you can get everything you need for baby without adding to the landfill.
2. Milk Paint
One of the most exciting things about being pregnant was getting the nursery ready (must be nature's way of distracting new moms-to-be from the whole impending birth thing). Naturally, I wanted to add a fresh coat of paint, but there's one snag: Traditional petroleum-based paint off-gasses for years. Not the very best start for a pregnant mom or a newborn to be around. So I was thrilled to discover Milk Paint, a completely organic and nontoxic way to paint your nursery with zero odor and chemical off-gassing. The Real Milk Paint Company offers a great selection of colors, and once mixed up, you apply it just like regular paint to your walls. We loved using it. I'm never using regular paint again for any room in our house again.
3. G Diapers
A staggering 50 million disposable diapers are thrown out, everyday. OK, read that again, 50 million. This was almost too much for me to even comprehend. And, although I love the idea of using only cloth diapers, I know that's not always realistic. I was so happy to discover G Diapers, a hybrid cloth-style diaper with a disposable insert that you can flush or even compost! They also make cloth inserts that you can wash. Finally, there's another option for the age-old debate of cloth versus disposable.
4. Books for Baby in Lieu of Cards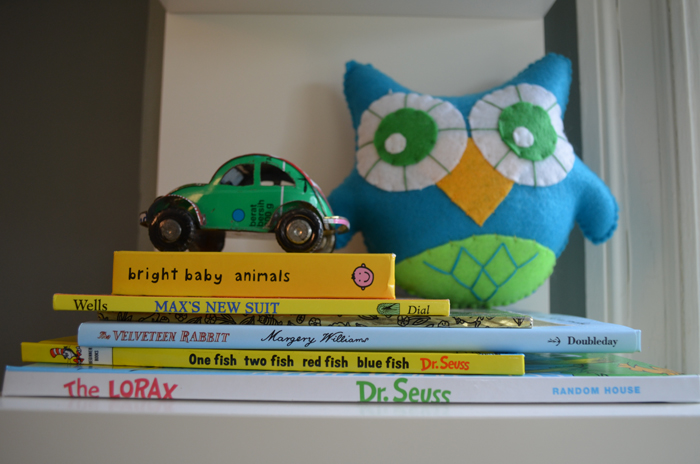 I love cards as much as the next person, but when you think about how much paper is used globally in the name of Hallmark it just seems like a huge waste in the long run. So, for our baby shower, in lieu of buying cards, I asked friends to write a note inside a favorite passed-down or bought-used children's book so we could start a little library in the nursery. Now, instead of having to throw away a bunch of cards and feeling guilty about it, we have all of these sweet little books, hand-picked by our friends, which I can't wait to read to our plus-one.
5. Plantable Thank-You Cards
I know, I know, again with the cards, but now I had a dilemma. I received so many amazing presents from our Encore baby shower that I wanted to send thank-you notes. Instead of traditional cards, I opted to make my own out of plantable Grow-a-Note basil seed paper from Green Field Paper Company so friends could plant them right in their garden—and turn those cards into pesto! To make my cards, I bought a few reusable handmade stamps from Blossom Stamps on Etsy and, for a little flair, used recycled lime green envelopes.
Robyn Jasko, creative services director at Runner's World magazine at Rodale, is a local-foods activist, community garden starter, and cofounder of Grow Indie, a site promoting sustainable lifestyles, homesteading, eating well, and living local. Her first book, Homesweet Homegrown: How to Grow, Make and Store Food, No Matter Where You Live, was just released on May 1.
Related Posts: