by guest blogger Maria Luci, social media and content editor at Rodale
The alarm went off at 5:15 a.m. on Sunday. As it buzzed, I lay there and thought to myself, What the heck am I doing? Why am I getting up before the crack of dawn to run?
Somehow, I willed myself out from under the covers, laced up my sneakers, and ate a healthy breakfast. Then it was straight to the Philadelphia Museum of Art's famous steps for my first-ever 5K.
But this story really begins five months earlier when a friend texted asking if I'd sign up for a "fun" run with her. I'd never run a race before and hadn't actually run legitimately since my middle-school track days. Suffice to say, it'd been a while since I'd even done a mile.
However, I am an employee at Rodale, home to Runner's World and Running Times, so I figured I should probably say yes and get my butt in gear. Running is part of the job description, right? (Just kidding!)
I'm happy to say that after months of training, the race went well and I realized that the experience did more for me than just tone up my rear. Running taught me a few things, too. Who would have guessed?
Here are six things I learned from running my first 5K:
1. Running IS fun! OK, I know a lot of you are probably rolling your eyes at this. I didn't believe it at first either. Just the thought of running made me feel somewhat nauseated and slightly offended. I was the person who said things like, "WHO would ever want to run?" and "Look at that person running in the cold—they're crazy!" And I'll admit, it wasn't fun at first. But after the first couple of months, I really started to enjoy myself. I might even go so far as to say that I began to crave running. There's nothing like a runner's high—and nothing like seeing your times go down and down. Running went from a chore to a treat. But yeah, I will admit that while running is fun, getting up at 5:15 a.m. to do so still isn't.

2. Music is everything! My goodness! This should probably be #1 on this list, now that I think about it. I first started training for the race without any music…on a treadmill. Worst decision ever! It was so boring, and all I could think about was how long I'd been running since I last checked, which typically turned out to be one minute. But then I discovered the wonderful world of running playlists. Making my playlists was almost as fun as using them, and I soon found myself a connoisseur of high-intensity motivational beats. My favorite song to run to? Independent Women Part I by Destiny's Child; gets me going faster every time. Girl power!

3. Running is cheap therapy. During training, I moved (always a pleasure…not!), my husband changed jobs, family visited, I caught a cold, and I made my way through a variety of other anxiety-producing experiences. But I soon realized that whenever my mind began to race with worry, a hard run did wonders to calm it down. As soon as my feet were pounding the pavement, my troubles began to fade. After every run, I felt lighter and accomplished.

4. Don't listen to everything you read online. Ha, I know, I know! The irony of this statement. BUT, it's true. I read a bunch of articles on running races before the big day, and some gave me great advice. I learned that you should dress as if it's going to be 20 degrees warmer outside, that your number goes on the front of your shirt, that you should avoid dairy and high-fiber products before you line up at the starting line, and that you should have everything prepared to go the night beforehand. But I also read that you should never wear the race shirt the day of and that your first race will stink. I ignored the former since I thought the shirt was pretty cool and I didn't really have anything else weather appropriate. Guess what? EVERYONE was wearing it. And yes, I'm sure at some big-time races it's a faux pas to wear the shirt before you finish the race, but who really cares? And as for the race stinking: totally not true for me! It was an awesome experience, and I finished with a great time. Another friend who ran her first 5K that day also confirmed this point; she loved it and finished strong. So yeah, don't believe everything you read, and know that every race is different…and that it's probably OK to go ahead and wear that T-shirt.

5. You need to believe in yourself! That's the only way you're going to get to that finish line. That and putting one foot in front of the other.

6. Races are addicting. The feeling of all those people running beside me, the sensation of actually passing some of those people, and the realization that I'd run the entire way all combined into the most amazing, totally addicting runner's high. Immediately after crossing the finish line (and catching my breath), I exclaimed, "I can't wait to do that again!" To which my husband replied, "I was afraid of that." (Note: What's worse than getting up at the crack of dawn to run? Getting up at the crack of dawn to watch someone run.)  But yes, I did run home (not literally) and signed up for another race—this time one with an afternoon start!
Has running ever taught you anything? Share in the comments!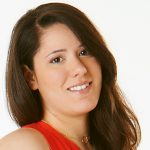 Maria Luci is the manager of Maria's Farm Country Kitchen and the social media editor at Rodale's. She grew up in Virginia, but now lives in Philly with her husband, a black cat, and a good deal of houseplants. When not editing, she's often eating organic food or running… or eating when she should be running.

Related Posts: