by Maria Luci, editor at Maria's Farm Country Kitchen and Rodale's
Let us begin by saying a big congrats to all the mamas-to-be!
Pregnancy means entering a wonderful period filled with love, hope, and happiness—as well as the bonus of glowing skin and luscious locks! However, it's also a time to be extra careful about what you apply to your body and your hair. So before you reach for your regular moisturizers and cleansers—even if they're naturally derived—read this:
We understand that removing all the potentially toxic products from your life can be a daunting task, especially during pregnancy, when just about everything seems to come with a warning label. From the kitchen to the closet—and everywhere in between—making safe choices can feel overwhelming. That's why today, rather than focus on the big picture, we're taking #OneSmallStep in the right direction by concentrating on what ingredients to avoid in pregnancy beauty products. That's because we know that pretty much anything you put on your skin has the chance to be absorbed into your (and thus, into your baby's) bloodstream. Hopefully, this post can make your daily beauty choices just a little bit easier.
Here are a few suggestions of small steps that can get you started toward a safer, more organic natural beauty regimen. What's great is these tips can take you through these nine months and beyond.
Just remember, please always ask your doctor before trying a new product or to answer any further questions you have about a safe beauty routine while your little bun is still in the oven!
Switch to phthalate-free hair care
Ah, the dreaded phthalates. Most of us have heard they're something to avoid, but what exactly are they, and where are they found? Phthalates are a group of chemicals generally used as plasticizers—or as a way to make plastics more flexible. They're found in plastics and often, in personal care products and food packaging. Unfortunately, they've been linked to a host of health problems and thus are probably best to avoid in general. However, it's especially important to try and limit your exposure to phthalates during pregnancy because, for moms-to-be, these chemicals have been linked to possible miscarriage. Furthermore, phthalate exposure has been linked to asthma, hormonal imbalances, and eczema.
Totally eliminating phthalates from your life is practically impossible—they're just about everywhere. But you can reduce your exposure to them by storing food in glass containers (also, never microwave your food in plastic—use glass or ceramic instead), saying no to air fresheners, and avoiding any products that list "fragrance" or "parfum" on the label.
A common place that phthalates are found is in hair products. That's why we recommend you forgo conventional hairsprays, at least while you're pregnant, and switch to an organic, phthalate-free spray like Captain Blankenship's Mermaid Sea Salt Hair Spray. It comes in a glass bottle and is made with aloe vera, rose geranium, palmarosa, and essential oils.
You can also lose the shampoo bottle altogether (plastic or otherwise) by lathering with Liggetts' Shampoo Bar. This handy bar uses organic vegetable oils to cleanse and condition hair without stripping it of its natural oils. And if your hair is less lush than you'd hoped during pregnancy, try Birchrose + Co's Organic Hair Repair Serum, which also comes in a glass bottle and uses a deeply nourishing blend of plant oils to soften, strengthen, and rejuvenate tired strands.
Avoid harsh or prescription acne treatments
Salicylic acid (also labeled as BHA, or beta-hydroxy acid)—even when naturally derived—may be harmful to your growing baby. Unfortunately, it's found in a good number of skincare and acne products, so be sure to check the labels on the cleansers, toners, and acne treatments you choose. Also, most prescription acne medications are a no-no during pregnancy; so let those sit in the medicine chest for now.
If acne is a problem during this special time, use a safer blemish-fighting product like PLANT's Zit Zap Spot Treatment Mask, which combats acne naturally with a mixture of white clay, activated charcoal, and basil oil.
Stick with aluminum-free deodorants
Aluminum chloride hexahydrate is used as an antiperspirant ingredient in most conventional deodorants. In general, we recommend avoiding using deodorants that contain aluminum because the ingredient has been linked to skin irritation and may mess up your skin's microbiome. But more importantly, the Food and Drug Administration categorizes aluminum chloride hexahydrate as a pregnancy class C, meaning it's not known whether it will harm an unborn baby or not—which is good enough for us to say a big fat "no!" to aluminum deodorants while pregnant or nursing.
So what to use instead? Try So Well Made's Himalayan Salt Crystal Deodorant Stone. It's handcrafted from 100 percent pure Himalayan salt, which has powerful neutralizing and disinfecting properties that block the growth of body odor bacteria. The salt also helps reduce inflammation and relieve sore muscles (a bonus for all those sore pregnant mamas!).
Check your night and wrinkle creams
Retinoids, a form of vitamin A, are often found in antiaging beauty products like wrinkle and eye creams. Unfortunately, high doses of vitamin A have been linked to birth defects. And while topical application of retinoids hasn't been linked to specific fetal issues, we recommend avoiding it while pregnant just the same. Read beauty-cream labels carefully so you can avoid any retinoid-containing ones while you're expecting. Ingredient names like retinol, vitamin a, retin-A, retinyl palmitate, retinyl acetate, and tretinoin are red flags.
A safer alternative? Apoterra's Night Regenerative Prickly Pear + Vitamin C Balm—it's made using USDA-certified organic ingredients and contains no retinoids, phthalates, synthetic fragrances, sulfates, parabens, or formaldehyde. Instead, this luxurious night balm combines plant oils and extracts with vitamin C to fight free radicals, boost collagen production, and provide deep hydration—safely and naturally.
Ditch damaging exfoliants
Exfoliate naturally and promote circulation safely while pregnant by ditching the harsh, chemical-laden exfoliants. Try dry-brushing instead!
We love Merben's Body Brush. The jute brush is softer and gentler on sensitive skin and can help you remove dead cells and stimulate circulation. Just avoid the belly area while there's a bun in there. Stick to legs, arms, and buttock regions, and be sure to dry-brush gently—your skin is likely much more sensitive these days!
If you're still concerned, stick to a one-ingredient wonder
You can't really go wrong with coconut oil. It's an amazing moisturizer—for hair and skin—as well as a great conditioner, cleaner, and makeup remover. Sticking to a one-ingredient beauty product can help you feel safer and more secure in your pregnancy beauty choices.
Our pick? Coconut Revolution's Organic Coconut Oil for the Body. Made with 100 percent organic, cold-pressed, virgin coconut oil, this whole-body treat helps to create smooth, soft, happy skin and well-nourished nails and cuticles. It works well as a daily moisturizer or as a decadent massage cream. Even better, it can be used as a one-ingredient stretch mark prevention cream!
The information presented in this article is not a substitute for professional medical advice. It's important to talk to your doctor about any products you're using while pregnant.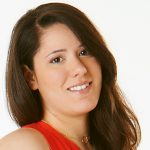 Maria Luci is the manager and editor at Maria's Farm Country Kitchen and content creator and editor at Rodale's. She grew up in Virginia, but now lives just outside Philadelphia with her husband, a black cat, and several Aloe plants. When not writing and editing, she's usually cooking up organic recipes or running—or eating when she should be running.
Save
Save
Save
Save
Related Posts: