by guest blogger Renee James, essayist and blogger
On this doorstep I stand,
year after year
and watch you going
and think: May you not
skin your knees; May you
not catch your fingers
in car doors. May
your hearts not break.
May tide and weather
wait for your coming.
and may you grow strong
to break
all webs of my weaving.
Several years ago, I referenced this simple and perfect poem, "A Wish for My Children" by Evangeline Paterson, in a column I wrote to mark the passage of time as my boys were growing up.  They were about 11, 11, and 12 years old, and were living through those exploratory years that bridge the end of childhood and the beginning of adolescence.
What I didn't quite recognize at the time—even though the poem references it so beautifully—is that they were beginning to stretch their webs, creating the tension and tugging that would eventually lead to breaking them. In my mind, we had so many more years together.  It didn't feel possible that they were starting to grow stronger—and away from me—already.
Did I really believe in that last line in the poem?  A hat tip to Evangeline if she truly did—she was a braver mother than I.  Did I want them to break those webs I had been weaving for more than a decade?
Intellectually, I think I believed it. I knew that realistically, barring some tragedy for any of us, they would eventually break their ties to me and to our home and make their way into the world.  And if all went very, very well, they would do so with "tide and weather" waiting for their coming.  In my mind, I understood that even from babyhood, our children break or at least stretch the webs we weave almost daily.
Emotionally, I didn't really mean it.  I wanted nothing to change and no webs of any kind to be so much as tested, much less broken.  It's not that I yearned for their baby days or for the preschool boys who melted my heart daily. I accepted the passing years because I found the boys relentlessly fascinating and stimulating and challenging at every age. I accepted those years for one other reason: The boys were right there. Right upstairs or across the table or next to me in the car.
Yes, of course I imagined them grown up someday.  I just never truly imagined how that day would feel.
Last week, I helped one of my sons move out—not into a school dorm but into an apartment, not unlike I did at his age. I'd done this before for all my sons, many times, helping them get settled into dorms, shared houses, or other apartments, but school was always attached to those moves. This move felt different. This was "life."
We packed clothes, books, music, and movies. His electronics consisted of a laptop and a cellphone. Then we disassembled and assembled the bed, loaded up the desk, the pillows, and comforter, and there we were: setting up life with a roommate just a few blocks from home.
The truth is, I'm straining to hold onto that web I've woven so carefully and lovingly for the past two decades.  It's showing signs of weakness and it's not going to last. It can't. It wasn't made to endure.  It was there to keep everyone connected and safe and secure—for a while.
We're all way past the web stage, anyway. As our webs break, or just stretch thinner for the next few years, I have to believe that something less noticeable but even stronger replaces them: The extra-long hug or our clasped hands or the strong arm thrown over my shoulder. The shared laughter so hearty that it brings tears. The smile that translates as "You're still a little bit crazy, but you're my mom."
My sons are growing stronger, in invisible, untold ways so they can "break the webs of my weaving." I'm resolved to that (I think). But maybe, just maybe, we'll all leave a single thread or two dangling, just in case we need to hang on from time to time.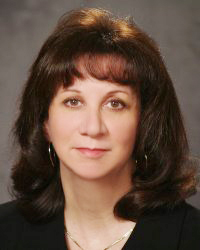 Renee A. James works at Rodale Inc. and also wrote an award-winning op-ed column for The Morning Call, the Allentown, PA newspaper, for almost 10 years. Her essays were included in the humor anthology, 101 Damnations': A Humorists' Tour of Personal Hells (Thomas Dunne Books, 2002), and are also found online at Jewish World Review and The Daily Caller. Her blog, It's Not Me, It's You, addresses topics that mystify her on a regular basis.
Related Posts: