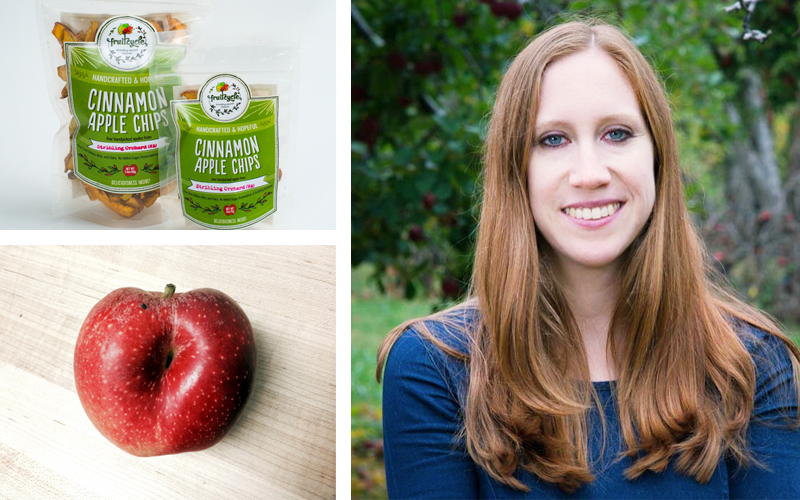 by guest blogger Lily Oswald, freelance environmental and garden writer
Elizabeth Bennett sees opportunities in the imperfect, the discarded, the undesirable. Put another way, she's a big fan of ugly.
This redheaded wonder out of Washington, DC, is protesting the way we waste food in America, saving "ugly food" from the dumpster and repurposing it into yummy snacks. By doing so, she's surging ahead with a business that seeks to not only earn a profit, but also to take a social stand to combat the hunger/food waste paradox facing America today.
After working in public policy post-graduation from Cornell, Elizabeth quickly realized that her passions lie in food. Putting these passions to work, she earned a Fulbright scholarship to study food culture in Singapore and later completed a master's in food anthropology. Her studies led to her outrage over our food paradox: Millions go hungry every day, yet we waste 133 billion pounds of food annually. Elizabeth was ripe to take action.
After completing her master's and returning to the workforce, she took a weekend jaunt to a "pick your own peaches" orchard. She was struck by the amount of waste she saw on this pastoral getaway. Customers left all of the imperfect peaches, ripe and falling to the ground, while the beautiful round peaches got plucked into bushel baskets and taken home.
She found that this issue was happening on a larger scale, too, at industrial farms across the country. With hundreds of acres to harvest and only so many man-hours of affordable labor, many farmers simply don't have the resources (nor the economic demand) to justify spending added time and money on harvesting 100 percent of their crops. Instead, they focus on picking the marketable produce, the fruits that will get top dollar at grocery store clients: the beautiful peaches.
"Ugly" apples, pears, and peaches all present opportunities for Elizabeth's year-old startup, Fruitcycle. By buying imperfect fruit that would otherwise go to waste, she saves thousands of pounds of perfectly delicious apples and converts them into healthy dried snacks.
Fruitcycle's Cinnamon Apple Chips now grace the shelves at grocery stores like Glen's Garden Market (featured in Edition 1 of this Change Makers series!). For recipes that require chopping up and baking fruit, why do we demand supple, perfectly smooth, beautiful produce? Products like applesauce or fruit chutney can rely on ugly fruit as ingredients, just as Fruitcycle's apple chips do. Elizabeth believes wasting this food is irresponsible. And it turns out a lot of folks agree with her.
The Ugly Food/Food Recovery movement is well under way in America. Dan Barber, the highly decorated chef at the infamous NYC-based Blue Hill restaurant, recently converted his chic Greenwich Village eatery into a pop-up restaurant called wastED. The mission: to cook memorable meals with ingredients sourced solely from kitchen refuse across NYC.
Chefs collected bruised bok choy, apple peels, and pulp from juice presses across the five boroughs. Vinaigrette's were whisked up from the juices leftover in chickpea cans. Dan, like Elizabeth, asked customers to question this food waste paradox, to embrace the ugly, to repurpose and reuse.
Since launching in September 2014, Elizabeth and her team have saved more than 7,000 pounds of apples. Every day, she touches the paradox of national food waste and hunger, working to make an impact in this small way.
In addition to her commitment to combatting this food paradox, Elizabeth is dedicated to the concept of second chances. In this spirit, she has brought on three staff members, all of whom were either incarcerated or homeless prior to working with Fruitcycle. The reasoning? She wants to make an impact holistically.
The ethos of Fruitcycle is to give a second chance to fruits that would otherwise be discarded. These imperfect apples are still delicious and nutritious, just with a few bumps and dimples on the surface. She wants to employ staff that might similarly need some help finding purpose after a few bumps and bruises along the way.
To learn more about the Ugly Food movement, check out Food and Wine magazine editor Dana Cowin's TedX Manhattan talk, "How Ugly, Unloved Food Can Change the World." Get involved with the #loveuglyfood campaign by finding a gleaning organization in your neighborhood (gleaning, the act of collecting unused crops from farmer's fields after harvest). And to support Elizabeth's company, visit thefruitcycle.com (stock up on her Cinnamon Apple Chips for $7!).
Lily Oswald is a NYC-based fashion retailer, freelance writer, and MBA student who is passionate about gardening and the environment. 
Related Posts: