by guest blogger Brendan Brazier, athlete, author, and creator of Vega and Thrive Forward
Spring—a time for renewal, growth, and plenty of spring-cleaning. Before you jump into summer, don't forget the kitchen as you clean the rest of your life. Dump the junk and let your pantry thrive by stocking it with these high net-gain foods to feel your energy soar:
Seaweed
If you're already eating plenty of land vegetables, it's time to head to the sea. Sea vegetables like arame, wakame, nori, kombu, dulse, and kelp are a nutrient-dense addition to your diet. They are rich in calcium, iron, iodine, and electrolytes; are easily digestible; and are chlorophyll-rich and alkaline forming. Look in health food or specialty stores for kelp noodles that can replace wheat or rice noodles in any Asian-inspired recipe.
Dinosaur Kale
Dark, leafy green vegetables are nutrient dense and alkaline forming. I enjoy making a raw salad out of dinosaur kale by massaging it with coconut oil and sea salt and adding a variety of vegetables, seeds, and legumes. I also encourage my clients to add a few stalks of kale to their morning smoothie.
Coconut Oil
Virgin, organic coconut oil is a versatile cooking oil with surprising health benefits. Coconut oil is rich in medium-chain triglycerides (MCTs), which are digested in the body like carbohydrates. The liver easily converts them into energy, rather than storing them as visceral fat. Use coconut oil in your next stir-fry, since it's stable at high heats.
Hempseeds
Hemp is a superfood by any definition. A complete protein, rich in fiber and omega-3s, hemp is a great addition to any diet. Look for cold-pressed hempseed oil for salad dressing, a plant-based protein that contains hemp for smoothies (such as Vega One), and hempseeds to toss onto salads and into smoothies.
For more pantry essentials, and function-focused recipes, check out Thrive Energy Cookbook.
And, try this spring recipe, which is rich in high net-gain nutrition and makes a great appetizer or part of a healthy meal:
Fresh Spring Rolls with Mango Lime & Mint Dipping Sauce
Serves 2 to 3/Makes 6 to 8 rolls
Prep Time: 15 minutes
Special Equipment: Mandoline with julienne blade or julienne peeler
Ingredients:
6 to 8 rice paper wrappers (8 inches/20 cm or larger)
2 cups peeled and julienned mango
2 cups peeled, seeded, and julienned English cucumber
2 cups peeled and julienned carrots
2 cups peeled and julienned green papaya
2 cups kelp noodles
2 large handfuls fresh cilantro with tender stems (cut off tougher bottom halves)
2 large handfuls fresh Thai basil leaves
2 large handfuls fresh mint leaves
½ cup Mango, Lime & Mint Dipping Sauce (recipe below)
Directions:
1. Fill a large bowl with warm water and spread a kitchen towel on your work surface. Working with one rice paper wrapper at a time, soak wrapper in warm water just until pliable, about 30 seconds. Place it on the kitchen towel.
2. Divide the julienned fruits and vegetables and the kelp noodles evenly along the center of each wrapper, layering your ingredients as you go. Repeat with most of the cilantro, basil, and mint, reserving some for garnish.
3. Holding the end closest to you with both hands, fold it over the filling. Tuck it under the filling using your fingertips and gently pull the wrapper taut.* Fold in the sides then tightly roll up the summer roll, squeezing the ingredients to get a tight roll. Place each roll as finished on a damp paper towel, and cover with another damp paper towel to keep rolls from drying out.
4. Cut each roll in half diagonally and garnish with the remaining herbs. Serve immediately with Mango, Lime & Mint Dipping Sauce.
*If the rice paper tears while you're wrapping, just soak another wrapper and wrap it around the torn one.
Mango, Lime & Mint Dipping Sauce
Makes 1 cup
Prep Time: 5 minutes
Special Equipment: blender
Ingredients:
1 cup peeled and coarsely chopped mango
3 or 4 mint leaves, torn
Zest of ½ lime
1 Tablespoon freshly squeezed lime juice
1 teaspoon cane sugar
Directions:
1. Combine all the ingredients in a blender. Blend on high until smooth and pourable.
Keeps in a sealed container, refrigerated, for up to 1 week.
Happy healthy eating!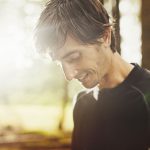 Brendan Brazier is a former professional Ironman triathlete, a two-time Canadian 50K ultramarathon champion, the creator of an award-winning line of whole food nutritional products called VEGA, and author of the best-selling Thrive book series. He is also the developer of the acclaimed ZoN Thrive Fitness program and the creator of Thrive Foods Direct national meal-delivery service. He has just launched Thrive Forward, an online video series on wellness. Recognized as one of the world's foremost authorities on plant-based performance nutrition, Brendan works with NFL, MLB, NHL, UFC, PGA, Tour de France, and Olympic athletes and is a guest lecturer at Cornell University, where he presents an eCornell module entitled "The Plant-Based Diet and Elite Athleticism."
Related Posts: