by Maria Luci, editor at Maria's Farm Country Kitchen and Rodale's
Hooray! Travel season is kicking into gear again!
Are your plans set? Tickets purchased? Outfits chosen? But wait, what about your beauty essentials? You might have the urge to simply stuff every bottle, compact, and cream sitting on your vanity into your suitcase—especially if you're a health- and eco-conscious woman who cares about what she puts on her skin and hair. But alas, traveling with all of your carefully chosen organic and earth-friendly products isn't very practical. Besides, packing too much not only adds weight and stress to your travels, but also can cost you in the form of baggage fees—money that could be better spent on fresh coconut water to sip by the beach.
Plan for Destination Beauty
The secret to packing your natural-beauty needs the right and light way comes down to planning. First, you need to consider what sort of climate you'll be visiting and what sorts of activities you plan to embark on during your trip. Second, take into account how you'll be getting there and how that will affect your skin and beauty routine. For example, flying will dry your skin, while being shipboard will expose it to damp conditions.
Grab a piece of paper and write down your destination's typical weather and the activities you're planning. Then make a list of what beauty products you think you'll need, as well as the products you'd like to bring. The trick to paring down is choosing only multipurpose solutions and must-have essentials. Cross off anything that doesn't fit into one of these two categories.
Need help making those final decisions? Here are our favorite tips for choosing and packing what you'll need based on where you're headed, along with the beauty necessities you'll need no matter where the wind, sea, or road takes you…
Beauty Packing Tips for Hot and Humid Locations
Going somewhere humid? Planning to be active? Worried about perspiring and looking sweaty in your vacay pics? Pack an All-Natural Stick Deodorant, and swipe a small amount on your underarms AND face before heading out. You're always going to bring deodorant on your trip, but by using deodorant on your face during humid or rugged adventures, you can leave facial wipes, oil-blotting sheets, and mega-size bottles of face wash at home. Be sure to use just a small amount on your face so as to not clog your pores or create breakouts.
Also, while on the road in a humid climate, avoid or limit caffeine. A stimulant like caffeine can exacerbate or cause excess sweating. Stick to herbal teas and water, especially on super-sweaty days.
In addition, leave the heavy concealers and creams at home. Pack this one Bio Brightener Invisible Powder instead. A natural powder designed to provide invisible coverage and have a radiant, soft-focus effect, it blurs fine lines and softens skin imperfections. It can also help with oily skin, saving you more room in your makeup bag.
Hot vacations usually mean you're showing more skin—so don't forget the sunscreen! Just don't pack the biggest bottle you can find. This small Coconut Sunscreen Stick fits easily into a carry-on bag and can be used on the face, nose, and ears. If you're in need of more, wait to purchase a bottle of organic sunscreen when you arrive at your location, so you don't have to carry it with you on the plane!
Finally, pack a good scrub—like this jar of Citrus + Vanilla Sugar Body Scrub—to nourish and exfoliate your skin while on the road in hot and humid places. It's often easier on the skin to exfoliate in warm, moist destinations because steamy air helps to keep your skin from drying and becoming irritated by the exfoliating process.
Beauty Packing Tips for Dry Destinations
For starters, apply a cream moisturizer the night before you fly to help prep your skin for the dehydrating day ahead. This Organic Geranium Orange Blossom Face Cream will do the trick. Headed to an arid destination like Sedona or the Australian Outback? Be sure to tuck this small jar into your carry-on to use at night. While on the plane or out on particularly hot and dry days, bring a mineral-water mist and mist your face throughout the day. Skip makeup while flying, and simply use moisturizer to give your face a break while enduring that dry, recycled plane air.
Also bring along a good toner, such as this Organic Geranium Orange Blossom Facial Toner, which uplifts the skin leaving a dewy, fresh finish. Use this toner before moisturizing for an all-day glow. And, of course, don't forget the sunscreen!
As for hair care in dry climates, pack a nourishing Organic Luxury Hair Oil Treatment and a Natural Beechwood Comb, which is naturally anti-static. Finish up your dry-air beauty bag packing list with multi-tasking makeup items like an Illuminating Bio Brightener Stick—it hydrates, adds dimension, and can help keep you looking rested all in one little, easy-to-pack stick—and a Lip2Cheek Color Pot, which combines hydration, protection, and rich mineral color that can be used on both lips and cheeks.
Beauty Necessities for Any Vacation
Water! Be sure to drink lots of water throughout your vacation, particularly during strenuous activities. Hydration is key to happy travels, whether you're visiting the tropics, the arctic, or the dessert!
Nude-colored nail polishes, applied before departure—like these Au Naturel "5 Free" Nail Polishes—don't show chips as much as bright tints do, so you won't need to pack a bottle for touch-ups or worry too much about your hands while you're trying to relax.
Natural mascara like this Expressionist Bio Extreme Mascara. Throwing on a little mascara can do wonders for your face and cuts back on the need to pack excessive amounts of makeup. Also, mascara can be used to touch up gray roots while on vacation and away from the salon!
Dry shampoo makes hair care on the road a quick and easy affair. Organic Dry Shampoo Powder absorbs excess oil on days between washings and helps to add volume and texture, so you can achieve that casual, tousled look anytime, anywhere.
Shampoo bars. This is a solid (literally and figuratively) option for flying—no worrying about liquid spills or ounce requirements. Also, this safe option will keep you from having to worry about using potentially toxic and bad-for-the-environment mini hotel shampoos.
Happy, naturally beautiful travels!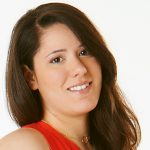 Maria Luci is the manager and editor at Maria's Farm Country Kitchen and content creator and editor at Rodale's. She grew up in Virginia, but now lives in Philly with her husband, a black cat, and a giant Aloe plant named Big Al. When not writing and editing, she's usually cooking up organic recipes or running—or eating when she should be running.
Related Posts: