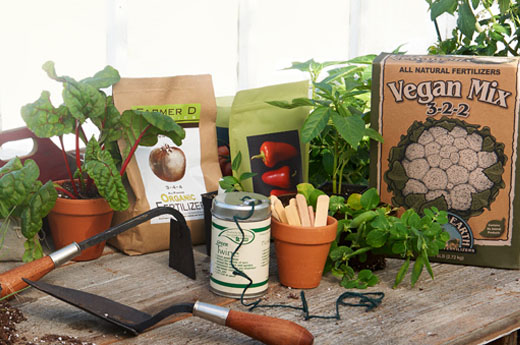 It is finally spring! Which means it's time to start gardening again. Did you plant peas on St. Patrick's Day? Or start your first potatoes or onions of the season? I haven't been able to plant much yet, with the polar vortex's leftovers still in my garden—but I am gearing up, literally, with my favorite ecofriendly gardening gear from Rodale's.
Happy gardening!
1. Rodale's Ultimate Encyclopedia of Organic Gardening

Rodale's Ultimate Encyclopedia of Organic Gardening has been the go-to resource for gardeners for more than 50 years. This book is the best tool for novices to start using organic methods on their fruit and vegetable crops, herbs, trees and shrubs, perennials, annuals, and lawns. This thoroughly updated version highlights new organic pest controls, new fertilizer products, improved gardening techniques, the latest organic soil practices, and new trends in garden design.
2. Buttery Soft Goatskin Gloves
These soft and durable gardening gloves are a must-have for any gardener. And they're made in the USA by a woman-owned family business. Durably crafted and designed to fit snugly, they feel lightweight and breathable so you can work comfortably while protecting your hands.
Made for Rodale's by Red Pig, this sturdy trowel has a pointed blade with a knife-sharp curved edge made out of reclaimed steel from old sawmills. The long-ferruled hickory handle is angled to prevent scraping your knuckles while you work.
4. Organic Fertilizer—Vegan Mix
Feed your garden with ecofriendly goodness. This organic fertilizer is carefully blended from plant nutrients without synthetic chemicals, growth hormones, or fillers. It's also specially developed for vegan gardeners. Its slow-release formula is designed to continually nourish vegetables, flowers, and herbs while stimulating soil health.
A brew for your plants, this certified biodynamic liquid foliar formula boosts microbial activity to enrich soil and fuel houseplants, flowers, veggies, shrubs, trees, and grasses. Just soak the compostable "tea bag" in water, squeeze out the good juices, stir it up, and spray it onto your plants. The nutrient-rich, chemical-free compost restores plants' vitality. Choose from tomato, rose, or the all-purpose brew to get your garden growing.
Related Posts: