by Maria Luci, editor at Maria's Farm Country Kitchen and Rodale's
What do you do with a bottle of Organic Brazil Nut Oil, a handful of TigerNuts, and a bag of Organic Mushroom Powder? You make a delicious salad and eat it all yourself, that's what!
OK, perhaps you should probably share, since this recipe makes a family-size salad. But even if you do scarf down the whole thing in one sitting, you don't have to feel guilty! This gluten-free, guilt-free salad is packed with loads of beauty-boosting nutrients, along with tantalizing, nutty flavors.
Beauty Boost TigerNut Salad with Brazil Nut Oil Dressing
Salad Ingredients:
5 ounces organic spring mix greens (optional: Add a few sprigs of dill and parsley to the mix)
½ cup Organic TigerNuts, soaked for 1 hour, then drained
¼ red onion, sliced thin
½ cup blueberries
¼ cup blue cheese crumbles
Dressing Ingredients:
Directions:
To make the dressing:
1. Pour the Brazil Nut Oil into a small bowl.
2. Add the rest of the dressing ingredients in order, and whisk together until smooth.
To make the salad:
1. Add the greens and herbs, if using, to a large bowl.
2. Sprinkle the TigerNuts, red onion slices, blueberries, and blue cheese on top of the greens.
3. Drizzle dressing over the salad, and serve.
Benefits:
The raw, vegan, and gluten-free Organic Brazil Nut Oil not only lends the dressing a delicate, nutty flavor, but is also rich in heart-healthy omega fatty acids and the mineral selenium (in fact, it's the richest dietary source of selenium in the world). The greens offer vitamins A and C and iron, while the blueberries are packed with antioxidants. To top it off, the paleo-friendly TigerNuts add a sweetly nutty-tasting boost of fiber and probiotic fuel, and the mushroom blend is created specifically to provide nutritional support for strong and healthy hair, nails, and skin.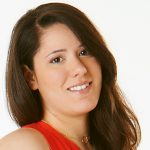 Maria Luci is the manager and editor at Maria's Farm Country Kitchen and content creator and editor at Rodale's. She grew up in Virginia, but now lives in Philly with her husband, a black cat, and a good deal of houseplants.
Related Posts: