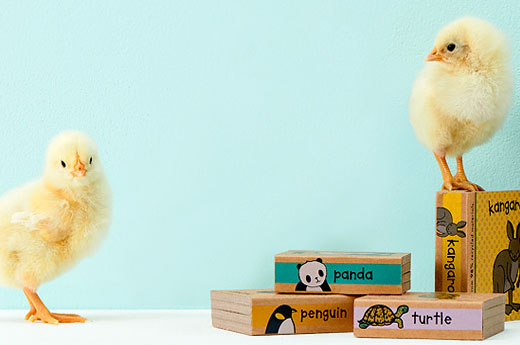 Easter is just a couple of weeks away! So it's time to decide how you'll be prepping that organic ham and what side dishes to whip up. You may even want to consider making your own organic candy. But as healthy and organic as we may be in the kitchen, there's one place many of us forget to get ecofriendly: the Easter basket.
That's why I've made it easy for you this year with these fun and toxin-free Easter basket gift ideas from Rodale's:
This sweet little ecofriendly lamb is sure to become your tot's favorite new pal. The friendly, smiling plush toy is made from super-soft, luxe organic cotton, natural silk, and safe, nontoxic recycled plastic and filled with organic cotton and natural corn fiber. Your kid's new little friend arrives on a swing in recycled packaging printed with soy ink.
Made from natural beeswax, these nontoxic crayons are perfect for creating your little artist's next masterpiece. This set of chunky crayons comes in 24 vividly brilliant shades and is housed in a cheery, reusable cardboard box with a plastic tray.
Your kids will adore learning all about animals with this set of 10 books. Made using recycled paper and earth-friendly, vegetable-based inks, these chunky books stack up in a reusable, totable tower for easy storage and travel.
The brainchild of a real mom seeking chemical-free baby care for her newborn, this certified-organic hair and body wash uses organic essential oils to gently cleanse your baby. Naturally low sudsing and free of sulfates, it's a safe choice for little ones of all ages. Plus, its bright packaging pops on your countertop.
Get your little gardeners growing and creating their own garden with this planting kit. It includes seeds and easy-to-follow instructions for cultivating an enchanting flower garden, featuring sweet alyssum, seashell cosmos, a sparky marigold mix, pincushion flowers, Russian mammoth sunflowers, and a giant zinnia mix.
Happy Easter basket shopping!
Related Posts: