by Maria Luci, editor at Maria's Farm Country Kitchen and Rodale's
When I got married, my mother gave me a little booklet bound with a ribbon that was simply titled, "Recipes from Your Mother."
Inside the booklet, as you probably guessed, were my mother's (and a few of my grandmother's) signature recipes. The first thing I did when I received it was to frantically flip through in search of my favorite warm and comforting Thanksgiving side dish; and there it was, my mom's corn casserole.
With Thanksgiving once again fast approaching, I decided to pull out the booklet and share the recipe as a form of gratitude for all the wonderful Thanksgiving meals I've experienced with this casserole on my plate. And of course, thanks to my mom, who makes this dish each and every year.
Corn Casserole
Serves 6
Ingredients:
1 cup whole milk *
5 Tablespoons cornstarch
2 Tablespoons sugar
3 eggs, beaten
1 14.75-ounce can cream corn
1 15.25-ounce can whole kernel sweet corn, drained
¼ cup butter *
Salt and pepper, to taste
Directions:
1. Preheat oven to 350 degrees.
2. In a saucepan, mix together the milk and cornstarch over low heat. Mix continuously for 5 minutes.
3. Add all the other ingredients in the order given. Continue stirring slowly until the mixture thickens.
4. Pour mixture into a casserole dish and bake, uncovered, for 45-55 minutes, or until the top is bubbly and golden brown.
* This recipe is already gluten-free, but it can also be made dairy-free by substituting unsweetened almond milk for whole milk and vegan buttery spread for butter.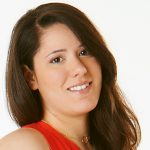 Maria Luci is the manager and editor at Maria's Farm Country Kitchen and content creator and editor at Rodale's. She grew up in Virginia, but now lives in Philly with her husband, a black cat, and a giant aloe plant named Big Al. When not writing and editing, she's usually cooking up organic recipes or running—or eating when she should be running.
Related Posts: