by guest blogger Paul Kita, food and nutrition editor at Men's Health
There's nothing like a good pesto to slap your tastebuds awake after a winter of root vegetables and chili. The problem, however, is that it's hard to find good pesto.
The Army-green glop in the supermarket jars always tastes like, well, it came from the supermarket.
To experience the bright, fresh, garlicky, herbal flavors of good pesto you have to make the sauce yourself.
No worries, though, because the following recipe isn't like anything you'll ever find on the grocery shelves. You start by making pan-roasted garlic oil. Then you blend that deeply aromatic oil with basil and fresh spinach.
Toss that peppery-sweet DIY pesto with some fettuccine and serve it beside creamy burrata cheese and roasted tomatoes and, BAM, spring has arrived.
Fettuccine Campagnole
Recipe adapted from Tutto Italia in Orlando, Florida
What you'll need:
4 garlic cloves
¼ cup canola oil, plus 1 Tablespoon
3 cups spinach
3 cups fresh basil (about 1 bunch)
Salt and pepper, to taste
8 campari tomatoes (or small tomatoes on the vine)
1 lb. fettuccine
4 balls burrata or fresh mozzarella
Parmesan cheese, for garnish (optional)
How to make it:
In a large skillet, combine the garlic and the ½ cup oil. Turn the heat to medium and cook until the garlic browns, 5 to 7 minutes. Remove the oil from the heat and allow to cool to room temperature.
Preheat your oven to 450°F, bring a large pot of salted water to a boil, and prepare a large bowl of water with ice. Add the spinach and basil to the boiling water and cook until wilted, about 45 seconds. Using tongs or a kitchen skimmer, transfer the greens to the ice bath. Once the greens are cool, wring the water out of them and pat them dry with paper towels. Then add them to a blender with the garlic and oil. Puree until smooth. Season to taste with salt and pepper.
On a baking sheet, toss the tomatoes with the remaining 1 Tablespoon oil and season with salt and pepper. Place them in the oven to roast until softened, 5 to 7 minutes.
Add the fettuccine to the boiling water and cook according to package instructions. Drain and, in the same large skillet you used to make the garlic oil, add the pesto and pasta. Toss until well coated.
To serve, divide the pasta among 4 plates. To each plate, add 1 ball of burrata, 2 roasted tomatoes, and Parmesan cheese, if desired. Makes 4 servings.
Nutrition per serving (w/ 1 Tablespoon Parmesan): 518 calories, 19g protein, 68g carbohydrates (5g fiber), 20g fat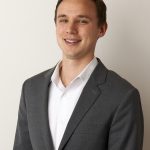 Paul Kita is a James Beard Award–winning food and nutrition writer and edits the How to Do Everything Better section of Men's Health. He's also the founder of MensHealth.com's popular food and cooking blog, Guy Gourmet. In 2013, he cowrote Guy Gourmet: Great Chefs' Amazing Meals for a Lean & Healthy Body. Kita has appeared on the Travel Channel, as well as on numerous local radio and broadcast stations.
Related Posts: