by guest blogger "Coach" Mark Smallwood, Rodale Institute executive director
Images of flawless apples seem to be an iconic representation of the fall season. They illustrate the ushering in of colder weather, the new school year, and the changing season.
But, to me, these apples don't hold any appeal. I know that those flawless apples you see in advertisements are grown conventionally—treated with more than 75 different toxic pesticides and fungicides, all approved by the EPA but harmful to our health.
When we host our Organic Apple Festival at the Rodale Institute, visitors are full of questions. Like why our apples don't always have that "perfect" look.
What is this spot? Is this rot?
It's not. Sometimes, at the Rodale Institute, our certified-organic apples get sooty blotch or flyspeck. Sooty blotch and flyspeck are fungal diseases that look like large smudges or shiny, round, black dots on the surface of the apple. The damage is simply cosmetic.
Our apples look this way because we use only certified-organic protocols in treating our orchard. We refuse to spray our apples with toxic fungicides.
Do the apples look perfect?  No.
But, are they sprayed with toxic chemicals? No.
Are they some of the healthiest apples you can eat? Yes.
Conventional apples top the "Dirty Dozen" list developed by the Environmental Working Group (EWG), meaning they contain the most pesticide residue of all the fruits and vegetables the group tests. In 2014, EWG's results showed that "99 percent of apple samples tested positive for at least one pesticide residue."
There's been a lot of research on the health risks associated with pesticides—especially for pregnant women and children because young people's developing immune systems can be affected even more than grown-ups'. In adults, pesticides have been associated with a wide variety of disease risks.
In addition, these toxic chemicals have been proven to be damaging to bees, birds, and other pollinators.
So, when I'm shopping for apples, I look for the apples with spots. I like the apples that have the imperfections and were grown without chemicals. I know they're best for my health and for the health of our planet.
When you come out to Rodale Institute's Organic Apple Festival on September 20th, don't be afraid of a few spots on your apples. Know that they were raised organically and never treated with any toxic chemicals.
As Joni Mitchell would say, "Give me spots on my apples/But leave me the birds and the bees/Please!"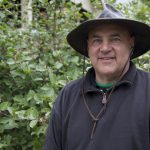 "Coach" Mark Smallwood has been dedicated to environmental sustainability, efficiency, and conservation for decades. Since joining Rodale Institute in December 2010, he has brought heritage livestock back to the institute's 333-acre farm; expanded and enhanced its research efforts; and launched Your 2 Cents, a national campaign to support and promote new organic farmers. In recognition of his sustainability efforts, Coach was chosen as a messenger for Al Gore's Climate Project, presenting to more than 15,000 people on the effects of global warming. Last, but certainly not least, as a longtime organic farmer and biodynamic gardener, Coach has raised chickens, goats, sheep, and pigs and driven a team of oxen.
Related Posts: