by Maria Luci, editor at Maria's Farm Country Kitchen and Rodale's
As we breathe in the crisp air of autumn, there's little else we can think of other than grabbing a cup of pumpkin-y espresso delight. If ever there were a true taste of fall, it would be found in a heavenly mug of Pumpkin Spice Latte.
Unfortunately, with most coffee-shop Pumpkin Spice Lattes (PSLs), you don't know exactly what's in the drink. As delicious as your PSL might taste, your paper cup could also be filled to the brim with unhealthy ingredients lurking just under the whipped cream. Potentially harmful additives, such as artificial flavors, preservatives, sulfites, and pesticide residue, have been found in PSLs from popular chains. Some brands don't even contain any real pumpkin—a real shame, since pumpkins are both utterly nutritious and delicious.
But have no fear; there's no need to give up your favorite fall treat. There's an easy way to ensure that your delicious Pumpkin Spice Latte is made with organic ingredients: Make it yourself. Better yet, when you make it at home, you probably aren't adding disposable cups to the landfill. Plus, you can make it even better for you, adding a dose of healthy protein and omega-3 fatty acids, simply by scooping in a bit of Organic Pumpkin Seed Protein Powder.
So when you're craving a little PSL to sweeten your day, try our recipe for homemade Organic Pumpkin Protein, Spice, and Everything Nice Latte. You'll reap the benefits of organic ingredients, real nutrient-rich pumpkin, and pumpkin seed protein, and can feel good about savoring this autumn delight. It's sure to warm your body and your heart.
Organic Pumpkin Protein, Spice, and Everything Nice Latte
Ingredients:
1 cup organic milk
2 Tablespoons organic pumpkin puree
1½ Tablespoons organic sugar or evaporated cane juice
¼ teaspoon organic vanilla extract
½ teaspoon organic pumpkin spice (blend of organic cinnamon, ginger, nutmeg, and cloves)
¼ cup organic espresso
Whipped cream
Directions:
2. In a saucepan, mix together the milk, pumpkin puree, sugar, pumpkin spice blend, and vanilla. Heat on medium until the mixture is hot.
3. Whisk until the mixture is foamy.
4. Pour the espresso into a large mug and add the Organic Pumpkin Seed Protein Powder. Stir until the powder is dissolved.
5. Pour in the foamed milk mixture.
6. Top with whipped cream and enjoy!
Tip: Have leftover pumpkin puree? Scoop it into ice cube trays and freeze it for future use in smoothies, lattes, and more.
Benefits:
Pumpkin is a delicious way to add healthful nutrients to your diet. This superfood is chock-full of vitamins A, C, and E, riboflavin, potassium, copper, manganese, folic acid, iron, and more! Plus, by adding pumpkin seed protein powder to this recipe, you're getting almost 5 extra grams of gluten-free/vegetarian protein in your cup, which promotes muscle recovery, regeneration, and growth. And most importantly, this Pumpkin Spice Latte is healthier for you and the environment, since your organic ingredients are free from GMOs and toxic pesticides, herbicides, and insecticides.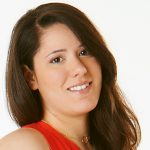 Maria Luci is the manager and editor at Maria's Farm Country Kitchen and content creator and editor at Rodale's. She grew up in Virginia, but now lives in Philly with her husband, a black cat, and a good deal of houseplants. When not writing/editing, she's often cooking up organic recipes or running… or eating when she should be running.

This story was originally published on R.Blog.
Related Posts: