by guest blogger "Coach" Mark Smallwood, Rodale Institute executive director
Apples.
Apples are the single most pesticide-contaminated produce item available at the grocery store. If you had to choose just one item from your grocery list to buy organic, make it organic apples.
Why do we spray so many pesticides on apples? Well, we humans aren't the only organisms that love apples. Insects love them to pieces. A whole slew of diseases, in the form of various blights, love to consume apples, too, before we ever get to them. But that might not be the only reason. It could also have something to do with evolution.
When apples are planted from seed, you get a different variety from every individual seed, even with seeds from the same apple. In general, evolution favors this kind of biodiversity in genetics for a given species. But what happens when you select only one genetic variety of apple to reproduce and cultivate, let's say a Granny Smith? We call this a "monoculture."
An orchard planted with a single species can become more susceptible to pests and diseases than one with several varieties. So if grocery shoppers only want Granny Smith apples, farmers will end up using a lot of chemicals—up to 42 different toxic pesticides were found on conventional apples when the USDA tested them in 2005, the last time this program ran—to prevent those other apple lovers (the pests and diseases) from getting to the harvest before human grocery shoppers can. The fact is, chemically grown fruit is bred for shipability and shelf life.
But there is a much better and safer option for you and your family. Organic apples are chosen for flavor and regional adaptability, not shelf life and color. As opposed to being full of poisons like Snow White's apple, organic apple skins offer a boost of antioxidants—15 percent more than conventional. We already know that organic growing methods are based on soil-building practices that are helping to protect our water sources and keep them clean.
Here at the Rodale Institute, we began growing organic apples in our orchards more than 30 years ago to work on alternative ways to deal with the fruit's pest and disease challenges. We've used integrated pest management and low-input sustainable agriculture methods that minimize pesticide use and published our research in the form of best practices and guidelines for orchardists several years ago.
Another reason we chose to grow apple orchards is that, unlike kiwis or plums, which some people just don't care for, just about everyone seems to love apples. "Apple" is one of the first words we learn as children. Apples seemed to us to be the most viable fruit to grow organically to compete directly with their chemical counterparts. We wanted to compare "apples to apples," as they say.
This year, more than 30 years since we started our orchards, we celebrate our fifth annual Organic Apple Festival on September 21st here in Kutztown, Pennsylvania. Our orchards continue to yield the best organic apples I've ever tasted, and they are among a very small number of certified-organic apple orchards in the State of Pennsylvania.
In light of these truths about our old friend the apple, making the choice to buy organic when it comes to apples is about as easy as they come. We hope you can make it here for the festival this year. See you at the Farm!
Organic Apple Festival:
September 21st, 2013
10 a.m.–5 p.m.
$5 per Vehicle
Rain or shine!
611 Siegfriedale Rd
Kutztown, PA 19530
www.rodaleinstitute.org
www.facebook.com/rodaleinstitute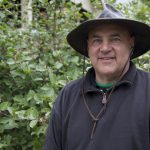 "Coach" Mark Smallwood has been dedicated to environmental sustainability, efficiency, and conservation for decades. Since joining Rodale Institute in December 2010, he has brought heritage livestock back to the institute's 333-acre farm, expanded and enhanced its research efforts, and launched "Your 2 Cents," a national campaign to support and promote new organic farmers. In recognition for his sustainability efforts, Coach was chosen as a messenger for Al Gore's Climate Project, presenting to more than 15,000 people on the effects of global warming. Last, but certainly not least, as a longtime organic farmer and biodynamic gardener, Coach has raised chickens, goats, sheep, and pigs and driven a team of oxen.
Related Posts: