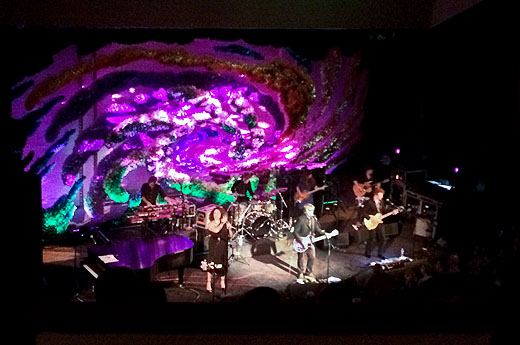 For my birthday this year, my oldest daughter got us tickets to see Neil Finn at Town Hall in New York City. Now, most people have never heard of Neil Finn. But maybe you've heard of Crowded House. Or Split Enz. Or his years recording with brother Tim. Or that epic 7 Worlds Collide phase.
But Neil really only had one big hit, the song "Don't Dream It's Over," performed by Crowded House. That was the first song I heard on the radio in college, and I said to myself, "I really like that song." That was unusual for me at the time, to really like a song like that.
I can't remember if I bought the cassette tape or the vinyl record (probably both), but that album was my introduction to Neil. A year or two later, I saw Crowded House for the first time in concert at the Tower Theater in Philadelphia.
That night, I learned some devastating news that soon ended my then-relationship for reasons that are too complicated to discuss now (but that play a prominent role in the memoir I've written to be published after my death). That night was also the first time I heard the song "Message to My Girl," which Neil had recorded previously with Split Enz, and it seemed to perfectly encapsulate the conflict and love I was both feeling and missing.
From then on, I bought whatever Neil recorded, in whatever configuration. And it was the music in my house. It was the music in my car. And I was exceedingly surprised and happy when Maya came home from camp her first year and announced the song "Weather with You" had become a camp sing-a-long song.
Henceforth, Maya became a Neil Finn fan herself.
So it was a happy surprise to receive two hand-drawn tickets from her on my birthday. I was looking forward to a night spent with my daughter, listening to good music. But I was unprepared for just how good the concert turned out to be—in fact, it was one of the best concerts I've ever been to.
It didn't start that way; it actually started horribly. Half of the equipment didn't work. Neil didn't like how the piano was positioned on stage and actually moved it at one point. His New Zealand accent made it hard to understand half of what he was saying. But somewhere around the third or fourth song, it all came together. And while there were a few songs I hadn't heard before (but that sounded awesome and inspired me to get his new album), I was continually surprised by how much I love and cherish almost every song he played.
And when he sat down at the piano and did a solo rendition of "Message to My Girl," I was in tears. I mean, 30 years goes by so fast! And it's beautiful and amazing to see how the story evolves and circles back and weaves in and out, with music as the soundtrack (yes, the memoir continues).
He's written so many other beautiful, brilliant songs that never made it onto the radio; "Fall at Your Feet" was another highlight. The last song (after three encores) was a solo guitar version of "Better Be Home Soon," and the whole audience sang along.
Yes, in Manhattan there are a few hundred people who know every word to a song that never got airplay on any U.S. radio station and was recorded halfway around the world (in New Zealand).
When it was over, Maya turned to me and said, "I have heard his voice my whole life." I had been thinking something similar: how his voice had been a part of my life for so long, in quiet moments, sad moments, happy moments, many moments of longing, and countless moments in the kitchen with kids around, just living.
As we hugged goodbye in the taxi ("Best birthday present ever!" I told her), Maya said, "Thanks for raising me with good music."
A lifetime of music.
When I get home from the city, I'm going to download Neil's new album and the other one he mentioned writing with his wife about their kids growing up and leaving home. These days, iTunes makes it easy to play music in the house all day long and all night—so I'm going to put these albums on heavy rotation on my home radio station and see where life takes us next.
Wherever it leads, there will be a Neil Finn song playing.
Related Posts: