by Maria Luci, editor at Maria's Farm Country Kitchen and Rodale's
This recipe was created because I was craving one of Maria Rodale's Gluten-Free Peanut Butter Sandwich Cookies. Unfortunately, I soon realized that I didn't have the necessary ingredients on hand to make the icing. Even worse, I was out of peanut butter!
But as you probably know, a true hankering for peanut butter cookies simply can't be ignored, so I scoured my pantry for something (anything!) I could use. To my excitement, it turned out that I had a jar of Yumbutter Cran & Coco Peanut Butter in my cupboard. Reviewing the label, I saw its ingredients included organic peanut butter, cranberries, coconut, and "infinite love," which sounded pretty darn perfect to me.
The resulting cookies were pure ooey-gooey, peanut-buttery, coconut delights! They really hit the spot and put my craving away for another day.
Gluten-Free Cran & Coco Peanut Butter Cookies

Ingredients:
2 cups Yumbutter Cran & Coco Peanut Butter*
2 cups light brown sugar
2 large eggs
1 teaspoon baking soda
A pinch of salt
Directions:
1. Preheat oven to 350°F.
2. Thoroughly mix all the ingredients together in a large bowl.
3. Spoon tablespoon-size balls of dough onto a greased cookie sheet.
4. Press down on each ball with a fork to create a lattice pattern.
5. Bake for 10 to 15 minutes, or until the cookies have the right amount of chewiness for you. (Keep an eye on these in the oven!)
6. Remove from oven and let cool completely before enjoying.
Add icing or ice cream, and you can turn these into delicious peanut butter cookie sandwiches.
These inspired me to think of other delicious peanut butter cookie combinations…. Next time, I'm thinking almond butter with chocolate chips! If you have more cookie ideas, let me know in the comments!
* If you don't have a jar of Yumbutter Cran & Coco Peanut Butter on hand, you can sub in regular peanut butter along with a couple scoops of cranberries and shredded coconut.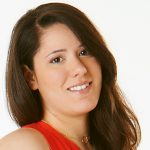 Maria Luci is the manager and editor at Maria's Farm Country Kitchen and content creator and editor at Rodale's. She grew up in Virginia, but now lives in Philly with her husband, a black cat, and a giant Aloe plant named Big Al. When not writing and editing, she's usually cooking up organic recipes or running—or eating when she should be running.
Related Posts: