By guest blogger Nate Luke, photographer and video director
Millsap Farms brings a lot to the table—literally. Along with providing community-supported agriculture (CSA) members with weekly assortments of freshly harvested organically grown produce, the Springfield, Missouri farm now hosts a weekly "Dancing Pizza Club" dinner.
On Thursdays, once warm weather comes to the Ozarks, Sarah and Curtis Millsap, their nine children, and a host of rotating volunteers and resident interns fire up the farm's two hand-built outdoor earthen ovens and start making dough.
The handmade crust, rolled moments before service, is a delicious vehicle for fresh sauces and toppings made from farm produce and local meats, cheeses, fruits, and vegetables. The pizza is served buffet style after being "danced" on boards in the 800-plus-degree wood-fired ovens, and diners sit at picnic tables together as the sun sets to the serenading of local musicians.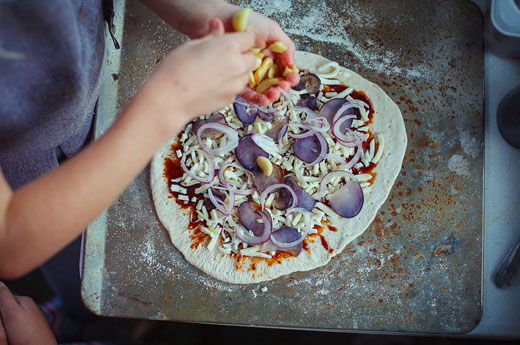 Three seasonal pies are always on the menu, along with cheese pizza. Water is provided, and diners are invited to bring along drinks of their choice. Everyone is welcome to explore the farm.
"The main reason we do this is for community," says Sarah. "We want to connect with people and get people to slow down and connect while eating freshly harvested produce that we grew right here on the farm."
These weekly gatherings are not only attracting CSA members—who are automatically part of the club—but also other families who want to enjoy the fresh food, unique atmosphere, and a sense of community that the farm provides. So, the farm community is growing.
Dinner tickets costs $10 for adults and $5 for children ages 4 to 12, with a $38 maximum cost for larger families. The first time a guest attends the club, one dollar of his or her ticket cost goes toward membership dues and the guest's name is added to a contact list. Members receive weekly information about the dynamic seasonal menu and performer schedule.
For more information, or to reserve tickets, visit Millsap Farms' CSA blog.
Nate Luke is an adventurer by heart, an advertising photographer by trade. He travels the woods and waters of the Midwest, telling the stories of the people who use them. He was first hooked on photography after seeing the work of Diane Arbus, and is passionate about the local food movement and heirloom vegetables. Follow Nate on his weekly fly-fishing, hunting, canoeing, and local food adventures via Instagram at instagram.com/nateluke.
Related Posts: