by Maria Luci, editor at Maria's Farm Country Kitchen and Rodale's
As a little girl, I spent two weeks of every summer at my grandparents' house in New England. The little navy-colored home sat by the edge of a picturesque lake with an abundance of trees, wildlife, and lily pads.
Most of the small wooden houses that lined the waterside—called "camps" by the locals—were built by hand, either by their occupants or their parents and grandparents. My grandparents' modest two-story home was no different, with its basement dug out by hand from stony ground by my father and his father. This was a story I heard frequently growing up, mostly to illustrate the ease of my own life—a point I could hardly contend with as I fished for sunfish, dove off wharfs, and swam from grassy shores to floating docks.
When I wasn't swimming or playing with the kids at the camp next door, I was often following my grandfather around. My Grampy Eddie lived through the Depression, and, like many others of his time, he'd come out of it with a strong distrust of banks and an even stronger inclination to save everything. He used his hands often. He spent his days creating, building, preserving. He reused most items over and over again in a way that would seem foreign to many of today's youth. He was a homesteader—an expert at reducing, reusing, and recycling. Plus, he could fix just about anything. And if the tools he needed weren't on hand, he'd simply make it himself.
Grampy, like his father before him, would also pickle just about anything—from beets to onions to eels he caught from the lake. And he believed I should learn to pickle, too. (He even taught me how to skin an eel for pickling, but that's another story.)
One of my grandfather's favorite things to pickle was his own cucumbers. His small garden, tucked between his house and the neighbors', was filled to the brim with cucumbers. Each year, he harvested and peeled them and made German pickles called "senfgurken" out of them. He then canned batches to keep in the basement and enjoy throughout the year. I loved those sweet, tangy pickles and still think about them often, even though my grandfather hasn't been with us for many years now.
I've cobbled together my own version of Grampy's senfgurken, one whose taste brings me back to being a little girl again, swimming, running, and pickling my summers away by my grandfather's side…
German Mustard Pickles (Senfgurken)
Ingredients:
6 whole pickling cucumbers
½ white onion, chopped
2 cups white wine vinegar
2 cups water
2½ cups sugar
1½ Tablespoons mustard seeds
½ teaspoon whole peppercorn
1 Tablespoon pickling salt
Pinch of ground cloves
Several sprigs of fresh dill
Directions:
1. Peel cucumbers, slice and scrape out seeds, cut into ½-inch chunks. Evenly sprinkle the salt on the cucumber slices.
2. Place cucumbers in screw-top canning jars along with fresh dill and chopped onion. Screw lids on and refrigerate overnight.
3. The next day, drain the liquid that's accumulated in the jars overnight. Remove dill from jars. Set aside cucumbers and onions in a bowl.
4. In a saucepot, bring remaining ingredients to boil. Boil for 3 minutes then add cucumbers and onions and boil until the cucumbers are slightly translucent but still mostly crisp.
5. Add pickles and onions back to jars. Fill jars with brine.
6. Let cool, screw on lids, then refrigerate. Pickles will be ready after 24 hours, but their flavor will be stronger the longer they sit in the fridge.
These pickles should keep for up to 2 weeks in the refrigerator without further processing/canning.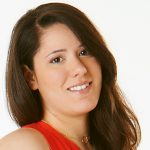 Maria Luci is the manager and editor at Maria's Farm Country Kitchen and content creator and editor at Rodale's. She grew up in Virginia, but now lives in Philly with her husband, a black cat, and a good deal of houseplants.
Related Posts: