by guest blogger "Coach" Mark Smallwood, Rodale Institute executive director
There is much to be learned from our ancestors. Our parents, grandparents, and great-grandparents had deep roots in agriculture. Modern organic farming is based on the philosophy that we must learn from past generations and modernize those lessons for current agricultural conditions. However, as generations pass, the lessons learned and stories of their experience are being lost.
We celebrate heritage animals and glorify heirloom fruits and vegetables, but it is more than just the varieties and breeds. It's about getting back to our culture and recovering the language of food. Honoring what was left behind for us and creating with intention what we will leave behind.
My grandmother was one of my greatest influences. Some of my fondest memories are of us in the garden, drawing string lines and planting spring onions. We had apple, plum, pear, and cherry trees. We had backyard chickens. She was organic before there was organic. We didn't even know how to say chemicals. This heritage is an integral part of my identity.
I was raised in an Eastern European household. My grandparents grew up in Slovakia with food traditions that went beyond what to put on their own plates; their food traditions had roots that extended into the community and were entwined with their neighbors. It was peasant food, and they used everything from the garden. Meat was reserved for special occasions, and everyone took turns providing a cow for the holidays. They didn't make filet mignon or steaks; they ground everything and divided it up among all the families in the village.
When my grandparents came to America and ground beef was readily available, Sunday dinners became a weekly holiday. To this day, the smell of halupkis in the oven evokes warm memories. And the food traditions that knit together their Slovakian village continued to knit together our family in the U.S. I remember harvesting root crops and cabbages and putting them under the porch and backfilling with leaves. I remember canning. In February, I would crawl under the porch and pull stuff out for dinner. I'd pick apples from the cold cellar and it tasted like September.
This legacy connects me to what has come before, a stable foundation of rich soil on which I've grown a life, a family. But it also connects me to what will come next. My heritage drives me to ask: What foundation am I building for my children, grandchildren, great-grandchildren? What will they think of when they think of their heritage? What smells, tastes, and experiences will they carry in their bones?
In an effort to capture this legacy for future generations, Rodale Institute has launched the Heritage Society. Gifts from Heritage Society members provide critical support that allows Rodale Institute to preserve the heritage of agriculture in our nation, while promoting and supporting the efforts of the modern organic farmer. All Heritage Society members are invited to share the story of their heritage with us. Upon joining the Society, a staff member will reach out to record your story. We will compile these heritage tales and make them available for farmers, friends, and future generations.
Join the Heritage Society today and share your story with us at rodaleinstitute.org/heritagesociety.
Coach's Heritage Halupki
Ingredients:
2 pounds ground beef
1 minced onion
2 eggs
Cooked rice
1 medium cabbage
1–2 cans tomato soup
Salt and pepper
Directions
1. Put the ground beef, minced onion, and eggs in a large bowl. Add enough cooked rice to cover the beef (I always measure with the palm of my hand), then salt and pepper to taste. Mix thoroughly with your hands until the eggs are incorporated. Set aside.
2. Cut the core out of a medium cabbage and steam. Pull the leaves out when tender and cut out the center ribs. Put a generous scoop of meat mixture into each leaf and roll lengthwise, tucking in the sides as you go. OR cut the leaves in half (down the rib), fill and roll them, tucking just one side in and leaving the other open.
3. Tuck rolled leaves into casserole dish and cover with tomato soup thinned with a little water (enough to just cover the cabbage rolls). You can also top it all off with sauerkraut and/or bacon, depending on the season or holiday.
4. Cover with a lid or aluminum foil and bake at 350° F for 1½ hours. Turn off the oven and leave them until cool. The test for doneness is when the cabbage falls apart easily.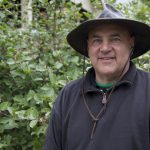 "Coach" Mark Smallwood has been dedicated to environmental sustainability, efficiency, and conservation for decades. Since joining Rodale Institute in December 2010, he has brought heritage livestock back to the institute's 333-acre farm, expanded and enhanced its research efforts, and launched "Your 2 Cents," a national campaign to support and promote new organic farmers. In recognition for his sustainability efforts, Coach was chosen as a messenger for Al Gore's Climate Project, presenting to more than 15,000 people on the effects of global warming. Last, but certainly not least, as a longtime organic farmer and biodynamic gardener, Coach has raised chickens, goats, sheep, and pigs and driven a team of oxen.
Related Posts: