As we "speak," I am in France and have been living out of my suitcase for several weeks. Which has inspired me to write a little about packing the right travel gear.
When you're traveling, it's important to pack light and right! And I don't just mean bringing the correct amount of underwear—it's about considering all the possibilities and packing the least amount of clothing/stuff that can be useful the most times.
Another factor for me—and hopefully, you—is to think about the earth, as well, when I'm packing. My favorite suitcase on wheels is from Patagonia, a company that has pioneered quality clothing and bags with organic, recycled, and upcycled fibers. I also want the same quality and sustainability from what's INSIDE my suitcase. Which is why the following five items are some of my favorite travel essentials…
1. The little black dress: Villa Dress. No matter where you're going, it's always a good idea to pack a little black dress. This is my favorite. It's made from sustainable merino wool that works for both cool and warm evenings, and it always feels lightweight. More importantly, it doesn't wrinkle and washes well—perfect for wearing multiple times during a trip. Change up the look with accessories, sweaters, and different styles of shoes.
2. The travel-size moisturizer: RSM Beauty Raw Coconut Cream. This organic coconut cream is perfect for on-the-go moisturization. It meets air-travel container-size requirements and is multipurpose (use it to remove mascara, soothe sunburns, or clean your face), making it perfect for those who like to pack light.
3. The sexy underwear: Organic Cotton Lace Trimmed Bikini. You need to bring a lot of underwear with you, so why not bring a couple sexy pairs as well. You never know where your travels will take you… Plus, these soft, delicate, lace-trimmed organic bikinis will have you feeling like you have a little sexy secret no matter where you are.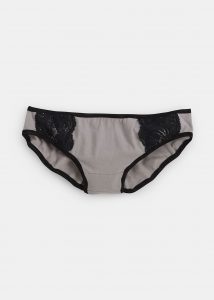 4. The leggings: Organic Cotton Crystal Wash Leggings. Leggings are the perfect travel attire—especially on a long flight or car ride. Everyone needs a little stretch on a long stretch! And beyond being stylish, these organic leggings are so comfy they will quickly make their way to the top of your go-to on-the-go list.
5. The lipgloss: YARD Skincare Organic Lip Bloss. I don't wear makeup, but I do enjoy a good organic lipgloss (you gotta keep your lips hydrated, especially on a flight or in a dry climate). This balm plus gloss (hence "bloss") is luxury lipcare in a small, travel-friendly tin. It's super soft with a mild shine and a subtle hint of color.
What are the essentials on your packing list? Let me know in the comments!
Related Posts: