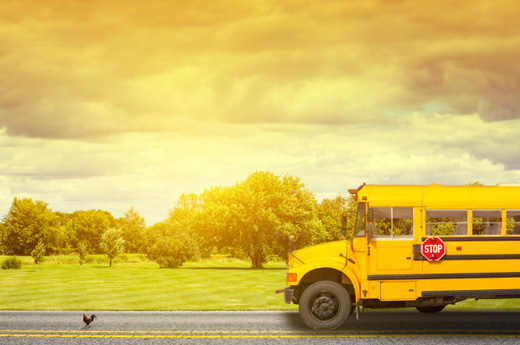 by Chelsey Simpson, communications associate for the National Farm to School Network
For those of us interested in food system reform, there are now (thankfully!) hundreds of worthy organizations and causes competing for our time and resources. Should you volunteer to help launch a new CSA in your community? What about donating to a campaign to legalize backyard chickens? Worthwhile pursuits for sure, but if you are a big-picture thinker, I've got just the cause for you: farm to school. Farm to school is the practice of sourcing local food for schools or preschools and providing students agriculture, health, and nutrition education opportunities, such as school gardens, field trips to farms, and cooking lessons. Here's why farm to school is positioned to be the biggest game-changer since canned food:
1. Sheer Numbers
If you're going to change the food system, you need to think big, and farm to school is big. The National School Lunch Program feeds approximately 31 million students every day, and over the course of a year, schools spend billions of dollars on food. Imagine the impact schools could have if they sourced even 50 percent of the food they serve from local farmers. This might seem like a tall order, but data from the first ever Farm to School Census recently released by U.S. Department of Agriculture (USDA) shows that 43 percent of schools are already engaged in some level of farm-to-school activity and another 13 percent plan to be in the future.
2. Niche Markets
In order for food-system reform to take hold, farming needs to be a genuinely profitable enterprise so that new farmers will be attracted to the profession and existing farmers can afford to stay on their land. Not only does farm to school represent a large market, but it's also hits an important niche market: Schools are perfectly positioned to make use of "kid-friendly" products that are less desirable to mainstream consumers, such as small apples and chicken drumsticks. Also, schools do much of their purchasing during the coldest months of the year when many farmer's markets are closed. These extra sales can really help a farm's bottom line.
3. A Catalyst for Infrastructure
In some school districts, Farmer Jane can back her truck up to the lunchroom door and deliver a week's worth of carrots and cabbage that school nutrition professionals are ready and able to chop into slaws and stews. But that isn't the norm. In many cases, both schools and farmers benefit from working with local distributors, processors, food hubs, and co-ops to more efficiently move food from the farm to cafeteria trays. Farm-to-school programs are often the catalysts that help build, expand, or improve these crucial components of local food infrastructure, which can be key to a community's overall food security by enabling restaurants, food banks, and grocery stores to more easily buy local food.
4. Young Minds, Growing Bodies
Imagine a time 20 years from now when today's kindergarteners are buying their own groceries, cooking dinner, and making decisions about how to feed their growing families. Now imagine that each of those young people received 13-plus years of education (why 13-plus? We can't forget about preschool!) in a setting that included farm-to-school practices. By investing in farm to school today, not only will the next generation be healthier, but they will also be more informed consumers who value farmers and support local food systems, not as a novelty, but as a way of life.
If this is a future you want to be part of, there are two things you can do to make a difference:
1. Work with your local school or preschool to implement or expand farm-to-school practices.
Many people don't realize that all farm-to-school programs are started on the local level by parents, teachers, school nutrition professionals, farmers, and other concerned community members. For ideas, download this short "getting started" guide produced by the National Farm to School Network.
2. Donate to the National Farm to School Network
Since it was founded in 2007, the National Farm to School Network (NFSN) has provided resources and information to thousands of individuals looking to make change in their own communities. NFSN has also been the primary advocate for groundbreaking farm to school legislation, including the creation of the Farm to School Grants program and the Farm to School Census, both administered by USDA. NFSN also maintains a network of 51 state leads and 8 regional lead agencies who offer on-the-ground support and information to school employees, farmers, and other farm-to-school practitioners across the country. By supporting the National Farm to School Network, you support the farm-to-school movement and the future of local food systems as a whole!
Chelsey Simpson, an Oklahoman living in South Brooklyn, manages communications for the National Farm to School Network. Her side project is a campaign called Just Ask, aimed at increasing local food in restaurants. Her side, side project is the search for a better whole-wheat lard biscuit.
Related Posts: