by Maria Luci, editor at Maria's Farm Country Kitchen and Rodale's
Bacon!
Need we say more? Well, OK, we will: Bacon is the current golden child of the foodie world. And with good reason. It's delicious and incredibly versatile, used in everything from savory breakfasts and quick lunches to hearty dinners and even sweet desserts (think maple-bacon cupcakes). And yes, we know that bacon contains a good amount of fat, but if you're enjoying uncured, organic slices, you're also getting a good dose of healthy animal proteins, essential B vitamins, and even antioxidant selenium.
It's not like we have to convince you to eat more bacon—it really is everywhere these days! However, even with all the new and unique bacon recipes being dished up at trendy restaurants and cafés daily, we still love eating our bacon the old-fashioned way: for breakfast. So to celebrate the simple beauty of bacon for breakfast, we've expanded on Maria Rodale's basic quiche recipe to create our own to create a delicious yet easy-to-make breakfast quiche. Enjoy!
Bacon and Cheddar Quiche
Ingredients:
1 organic premade frozen piecrust (or make your own flaky piecrust with this recipe)
3 eggs
1½ cups whole milk
2 Tablespoons flour
1 Tablespoon butter
2 cups sharp cheddar cheese, grated
8 slices bacon
1 yellow onion, chopped
Salt and pepper to taste
Directions:
Prepare the piecrust and preheat the oven to 375 degrees.
Add butter to a frying pan and fry the onions over medium heat until caramelized.
Cook and crumble the bacon slices (the easiest way is with our Stoneware Microwave Bacon Cooker).
In a bowl, mix the eggs, milk, flour, and cheese.
Add the onions and bacon.
Spoon the mixture from the bowl into the piecrust; place on a baking sheet.
Bake for approximately 45 minutes, or until the top is golden and the insides feel firm.
Remove from the oven and let stand for 5 to 10 minutes, or until the cheese cools enough to hold the whole thing together. Otherwise, it will be runny when served.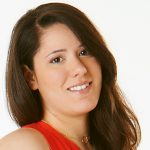 Maria Luci is the manager and editor at Maria's Farm Country Kitchen and content creator and editor at Rodale's. She grew up in Virginia, but now lives just outside Philadelphia with her husband, a black cat, and several Aloe plants. When not writing and editing, she's usually cooking up organic recipes or running—or eating when she should be running.
Save
Save
Related Posts: