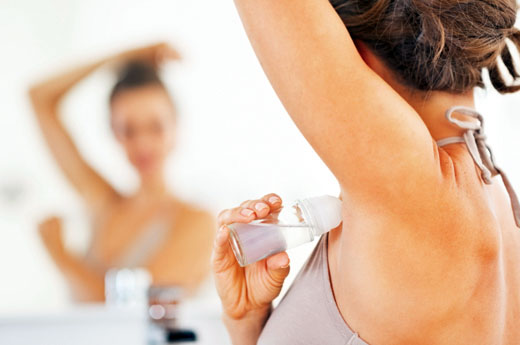 by guest blogger Ava Anderson, natural-beauty expert and safe-cosmetics advocate
We use it every day, sometimes more than once. Did you ever stop to wonder what's really in there?
A large percentage of what we roll, spray, and drag over our underarms is absorbed through the skin, an area that (like the groin and scalp) is one of the body's most sensitive and porous areas.
Unfortunately, brand-name deodorants contain several harmful chemicals. So when choosing a deodorant, be sure to read the labels. Look for all-natural and organic ingredients, and steer clear of these harmful chemicals.
What to Avoid
Aluminum. A metal that's used in antiperspirants to help block the sweat from escaping the pores, aluminum has been linked to breast cancer in women, and according to the International Alzheimer's Journal, "aluminum is a well established neurotoxin and is suspected to be linked with various neuro-degenerative diseases, including Alzheimer's disease."
Parabens. These preservatives (added to prevent bacterial growth) are endocrine disruptors, suspected of disrupting the body's delicate hormonal balance and linked to early puberty and an increased risk of hormonal cancers—including breast cancer. Exposure has also been linked to birth defects and organ toxicity. According to the American Cancer Society, "studies have shown that parabens have weak estrogen-like properties. Estrogen is a female hormone known to cause breast cells (both normal and cancerous) to grow and divide. And some conditions that increase the body's exposure to estrogen have been linked to an increased risk of breast cancer."
Propylene glycol. A petroleum-based chemical that is used to soften cosmetic products, studies have shown that in large quantities propylene glycol can cause damage to the central nervous system, liver, and heart. This and other glycols are in many personal care products and processed foods.
Fragrance. Hundreds of chemicals can legally hide under this umbrella term. One of these is phthalates (THAL-ates), which have been linked to a variety of health issues. High phthalate blood and urine levels in women of childbearing age have been linked to a higher risk of birth defects. This suggests that phthalates may disrupt hormone receptors as well as increase the likelihood of cell mutation.
Triclosan. The Food and Drug Administration classifies this common ingredient as as a pesticide; the Environmental Protection Agency considers it a probable carcinogen. A 2012 study determined that exposure to triclosan weakens muscles, including the heart.
Butylated hydroxytoluene, or BHT. In addition to causing hyperactivity in children, BHT (and BHA) are preservatives considered carcinogens by the U.S. Department of Health and Human Services; and the Environmental Working Group links BHT to cancer, developmental toxicity, allergies, neurotoxicity, endocrine disruption, biochemical, or cellular-level change.
Cyclopentasiloxane. According to one test submitted by Dow Chemical Corp to the Environmental Working Group, this silicone-based ingredient, known to be bioaccumulative and toxic to the environment, forms cancer tumors at low doses. Cyclomethicone is a mixture of three siloxanes. Some siloxanes can also influence neurotransmitters in the nervous system. The European Union classifies some as endocrine disruptors and possible reproductive toxicants that may impair fertility. Research shows some to cause uterine tumors and harm to the reproductive and immune systems. Sadly, this is the very first ingredient in one of the most popular deodorant brands for women, indicating it's highest percentage of the formula.
What to Do?
You'd be right to have your guard up for any these chemicals—and more—whenever you shop for deodorant. As an example, ingredients in a best-selling men's deodorant (this issue is not just for women!) include: aluminum zirconium octachlorohydrex gly (16%), water, alcohol, cyclomethicone, propylene glycol, dimethicone, trisiloxane, calcium chloride, PEG/PPG-18/18 dimethicone, 2 benzylheptanol, phenoxyethanol. Along with aluminum, cyclemothicone, and propylene glycol, already mentioned above, seven of this brand's chemicals are on my "Ingredients to Avoid List."
Cosmetic brands, chemical companies, and lobby groups will tell you it's "just a little bit," and that there's no conclusive evidence. But why wait until it is finally proven? Why not lessen the body burden of harmful chemicals absorbed from repeated daily use and a lifetime of use of these products?  Choose a natural and organic deodorant without any of these ingredients, instead. Don't be fooled by botanical ingredients included in the formula; be on the lookout for the bad ones. Even one "bad guy" is too many for me.
At the age of 15, Ava Anderson launched her own line of personal care and home-cleaning products, Ava Anderson Non-Toxic. Now 20, Ava is educating hundreds of thousands of American families annually on the issue of toxic chemicals in personal care products through her line, which now includes baby, skin, face, hair, body, scents, bugs, candles, home, sun, and pet products. A sophomore at Babson College in Wellesley, Massachusetts, Ava actively helps run her multimillion-dollar empire with 17 full-time employees. Her goal is to help force a paradigm shift on the issue of toxic chemicals in products. 
Related Posts: