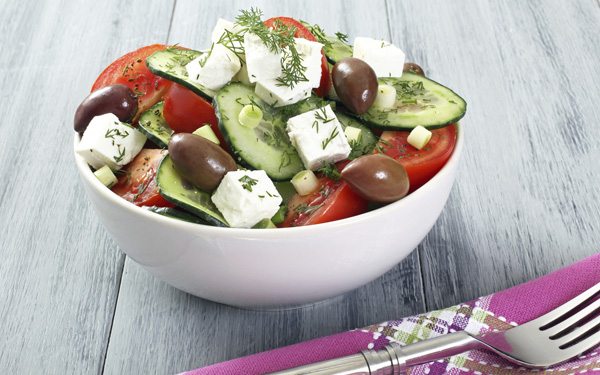 Ironically, fresh local lettuce is harder to come by in the heat of summer than in spring and fall—lettuce prefers cooler temperatures. Yet, there is no better food to fix on a hot night, when you don't want to heat up the house with cooking. Here are two of my favorite summer salads that you can eat as a full meal. And they're highly flexible, so you can adapt them to your own family's taste.
Greek Salad
Ingredients:
1 head romaine lettuce (or substitute your favorite lettuce)
1 green pepper, sliced
1 or 2 ripe tomatoes, sliced
1 cucumber, sliced
Thinly sliced red onion, as many as you want
Good feta cheese, crumbled
Kalamata olives, as many as you want
1 handful toasted pine nuts
Grilled chicken or fish (optional)
Dressing:
1 tablespoon red wine vinegar
1 tablespoon fresh lemon juice
1 slice fresh garlic, chopped or minced
Pinch of oregano
Salt, pepper to taste
4–6 tablespoons olive oil
Clean, slice, and combine salad ingredients. Mix dressing ingredients in a bowl, stirring with a fork, and give it the sniff test (if it smells too much of vinegar, then add more oil). Add to salad ingredients. Toss, and enjoy!
Chopped Summer Salad
Chop into cubes whatever vegetables you have in your fridge or garden: cucumbers, green beans, tomatoes, onions, peppers, carrots, celery, fennel, zucchini, herbs, corn, peas, and anything else that seems good. Chop up some herbs, such as basil, parsley, thyme and mint. Mix in a bowl.

Dressing:
1 tablespoon sherry vinegar (or any other kind)
3–4 tablespoons olive oil
Salt to taste (the secret to great-tasting dressing)
Stir the dressing ingredients together with a fork, give it the sniff test (see above) and toss into the salad.
Optional ingredients, to make it more of a full meal: chicken cubes, cheese cubes, pine nuts or toasted almonds, olives, or toasted bread cubes (croutons).
Yummiful! Even my kids will eat these salads.
Related Posts: