There's one thing about fall I'm excited about, and that's all the fun new stuff coming to Rodale's. Today, I'm really happy to share a few of the newest consciously designed, earth-friendly, and recycled jewelry pieces that we've recently added to our collection.
Here are my five favorites:
1. Health, Healing, Happiness Necklace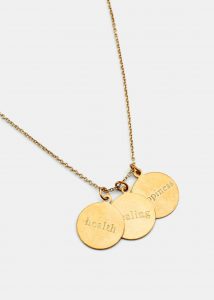 I am so excited about this one! This inspiring necklace is exclusively designed for Rodale's by Alisa Cohen and was produced in the USA. It features 3 charms with encouraging words to live by: "Health," "Healing," and "Happiness"—the three words, it just so happens, that I often use to close emails. The necklace makes a great present or "just because" gift to share with friends and loved ones who need a little reminder.
2. Vintage Rhinestone Stud Earrings
These handmade earrings feature vintage rhinestones and bring an Art Deco–inspired glamour to any look, yet they're subtle enough to wear everyday.
Inspire greatness and encourage change with this beautifully designed gold cuff. It's a bold bracelet delivering a bold message. Wear it and feel inspired to take on the day!
Another Rodale's exclusive, this necklace features the inspirational message "soar" hanging with a gold feather charm. It's delicate enough to be worn with a cocktail dress, yet versatile enough to match an everyday, casual style.
5. Heishi Wrap Bracelet/Necklace
This two-in-one wrap bracelet and single-strand necklace is handwoven by maker Serefina's family in Thailand using waxed linen cords and features brass beads inspired by an ancient Native American tradition. Worn as either a necklace or a bracelet, it adds a bold dimension and looks cool with just about any outfit.
Find more new jewelry on Rodale's!
Related Posts: