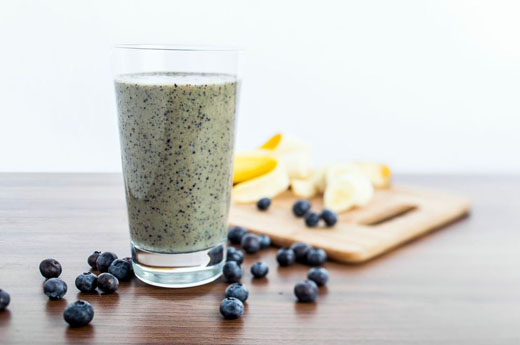 by guest blogger Peggy Kotsopoulos, registered holistic nutritionist, culinary consultant, and author of Kitchen Cures: Revolutionize Your Health with Foods that Heal
How you look and feel is a direct reflection of what you eat. Food shapes the way you think, the way you process information, the clarity of your ideas and thoughts. It influences your mood, your energy, your waist size, and even your libido.
So if you want to feel your absolute best and most vibrant self, you absolutely can. Every day. And it's not about major life changes like giving up your favorite things. It's about making little changes and incorporating real, whole, nutrient-dense foods that collectively add up to something ginormous—completely transforming how you look and feel.
To get you started, here are five kitchen-cure foods to incorporate into your diet to help you feel your most vibrant self:
1. Turmeric. Turmeric is one of the most powerful spices (and foods in general) when it comes to reducing inflammation. Turmeric is a root veggie that belongs to the ginger family, but most of us know it best in its powdered form as a bright yellow spice. Its active flavonoid, curcumin, is one of the most powerful disease-preventative compounds around. It helps reduce injury-related inflammation and can be just as effective as anti-inflammatory drugs like cortisone. Its amazing anti-inflammatory and analgesic (painkilling) properties directly inhibit the COX-2 enzyme to reduce inflammation and pain, whether they're related to injury or symptoms associated with rheumatoid arthritis and inflammatory bowel disease. Plus, it helps reduce the incidence of diseases (such as cancer), prevents cognitive decline (think dementia and Alzheimer's), enhances memory, and even helps to keep skin clear. 
2. Savi seeds. Also known as sacha inchi seeds, savi seeds are the richest plant-based source of omega-3 fatty acids out there! So if you're looking to boost your brainpower, nosh on these. Omega-3 fatty acids have amazing power to boost your mood and alleviate depression. They help improve the transmission of neurotransmitters in your brain, which increases your mental acuity, cognitive performance, and mood. Plus, these seeds are exceptionally high in tryptophan, a precursor to serotonin, our happy neurotransmitter. Savi seeds are also superhigh in protein and fiber, so they help stabilize blood sugar levels and provide mental energy, focus, and improved concentration. This joyous combination makes for the perfect happy seed.
3. Sunflower sprouts. Looking to boost energy? Try these. Sunflower sprouts are "microgreens" sprouted from the sunflower seed and harvested in the beginning stages of their growth. This is when the plants are the most nutrient dense, bio-available, and enzyme rich. These crisp, fresh-tasting sprouts are rich in protein, vitamins, enzymes, and phytonutrients, which help protect against disease. When seeds are sprouted, their nutritional profile can increase anywhere from 100 to 600 percent, making sprouts superior to any other leafy (macro) green. Plus, they're higher in chlorophyll than any macrogreen—the pigment increases the number of red blood cells that deliver oxygen to your cells. The more oxygen to cells, the more energized and vibrant we feel.
4. Olives. Olives are one of the healthiest fruits around—and one of the best-kept beauty secrets. Their high-antioxidant, antiviral, antibacterial, anti-inflammatory, and anti-fungal properties treat a large number of diseases and ailments. Olives (and the extra-virgin form of the oil made from them) can be used to lower cholesterol, protect the liver, guard against colitis, reduce inflammation, and improve the look of your hair and skin, giving you the glow! They're a rich source of vitamins A and E, both of which protect the oils on the surface of your skin from free-radical damage. Olives also help to improve skin tone and protect against UV radiation, which is extremely beneficial come the spring and summer months.
5. Ginger. If you're looking to keep your belly fat and bloating at bay, you may want to keep ginger within arms reach. This powerful herb, spice, nutritional supplement, and medicinal healer has been used all over the world since ancient times for much more than just spicing up dishes (and cookies!). Ginger's effects as a digestive miracle worker are by far its most impressive qualities. For thousands of years, ginger has been used to manage nausea, vomiting, diarrhea, and stomach upset—including indigestion, gas pains, and stomach cramping—by increasing the production of digestive fluids and saliva.
Bonus: Want to start your day off right? Try my favorite morning smoothie to give your vibrant self a kick-start! It's easy to make and packed with antioxidants, so don't be surprised if this energizing banana blueberry smoothie quickly becomes your favorite, too!
Peggy K's Favorite Morning Wake-Up Smoothie
Ingredients:
½ cup frozen blueberries
½ frozen banana
½ cup unsweetened vanilla coconut milk
½ cup water
1 scoop Vega One French Vanilla
Directions:
1. Add ingredients to blender.
2. Blend until smooth.
3. Enjoy!
Peggy Kotsopoulos is a registered holistic nutritionist (RHN) and culinary consultant focused on teaching real health through lifestyle and dietary choices that are easy and delicious. She obtained her RHN designation from the Canadian School of Natural Nutrition, completed her health educator certification from Hippocrates Health Institute in West Palm Beach, Florida, graduated from Living Light Culinary Arts Institute in California, and founded beVibrant—a food-based wellness consultancy. For more information, visit peggyk.com and follow Peggy K. on Twitter @BeVibranthHealth and on Google+.
Related Posts: