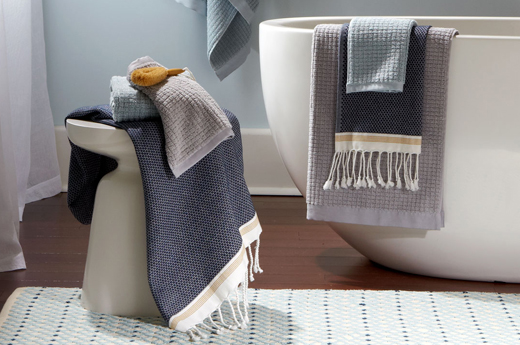 There's no better way to unwind on the weekends than a steaming-hot bath. Baths not only help clean your body, but your mind as well. They help you wash away the week's problems and reflect on your successes. Add a warm bath to your weekend and see how much better you feel. And to get started, check out five of my favorite bath-time products from Rodale's, each meant to help bring your soak to the next level of relaxation.
Available in three lovely, clean-burning scents, this ultra-feminine hand poured soy candle comes in a white porcelain cup featuring a removable porcelain bird —both reusable after the candle burns out. Adorably packaged with a "nest," this is the perfect gift or decorative piece for your bathroom. The candle burns clean for 40-plus hours and is made with wax that is free of GMOs.
2. Peg and Awl Candlelight Tub Caddy
Made from reclaimed oak, this water-resistant wood plank tub caddy is finished with tung oil. It extends across the bathtub and can safely hold candles or a cup—plus any other soaking necessities.
3. Baudelaire Hand-Harvested Sea Sponge
For a luxurious bath, look to Baudelaire's superior-quality, hand-harvested sea sponges. Naturally porous, their soft and woolly texture helps produce an extraordinary lather so skin feels exceptionally clean.
4. Schlossberg Switzerland Ulta Soft Bath Towel
Spun from the fluffiest and most absorbent organic combed cotton, this set of three luxurious stone-hued towels—an amply sized bath towel, washcloth, and guest towel—adds an elemental vibe to any décor.
5. S.W. Basics of Brooklyn Organic Shea Butter Face + Body Cream
This organic shea cream is formulated from only three top-quality, highly effective ingredients. Just a small amount delivers the ultimate in long-lasting hydration to your body. It's made with certified organic ingredients grown without pesticides or herbicides, using fair trade ethical working practices.
Related Posts: