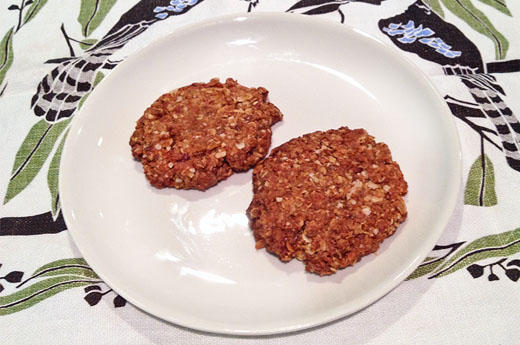 If ever there was a "cookie" that was a love letter, it would be the Anzac Biscuit. ANZAC stands for Australia New Zealand Army Corps, and it was the official cookie (they call cookies biscuits Down Under) that women sent to their menfolk who went off to war—beginning in World War I. The recipe is made without eggs so that the biscuit will last a long time without spoiling. I'd been meaning to try making them for a while now, but it wasn't until my daughter needed an "international" item for the school bake sale that I decided to try.
I can distinctly remember the first one I ever tasted (Emmaus Farmers' Market, six or so years ago, made by Haika's Kitchen). And the second one I ever had was at the Royal Botanic Garden in Sydney, Australia, after walking about eight miles then finding out the garden's restaurant had just closed. Eating an Anzac Biscuit at that moment was sustaining until dinner.
While I was in Australia, I had my first ever shockingly real past-life feeling. And it involved sending someone I loved off to war knowing in my bones that we wouldn't see each other again in that lifetime. As I tasted my first home-baked Anzac Biscuit, I tasted tears, even though there is no salt in the recipe. I thought of all the women who had made these biscuits over the past 100 years, and had sent them in carefully packed boxes, never knowing what might happen to their loved ones—baking love into each buttery, coconut-filled, healthy, nourishing bite. I don't know if past lives are real, but I know the emotion I felt was. I also know these "cookies" are delicious and filled with a special kind of love.
Apparently in Australia, it's frowned upon to mess with the recipe, but since in this lifetime I'm a rebel American, I messed with it just a bit. I did so mostly because I didn't have some of the exact ingredients (like Golden Syrup) and I wanted to make it a tiny bit healthier. But here is my recipe, which tastes like lifetimes of love to me. All organic, of course.
Anzac Biscuits
Ingredients:
1 cup white flour
1 cup whole wheat flour
2 cups rolled oats (I didn't have plain, so I used organic Ancient Grain Oatmeal)
1 cup turbinado sugar (or other sugar)
1 cup coconut sugar
1 cup unsweetened shredded coconut
2 sticks (1 cup) butter
2 Tablespoons honey (or golden syrup if you can get it)
¾ teaspoon baking soda
¼ cup boiling water
Directions:
Preheat oven to 350° and either grease a cookie sheet or line it with parchment paper.
Put all the dry ingredients in a bowl.
Melt the butter in a pan; dilute the baking soda in boiling water and add it to the butter.
Add the wet stuff to the dry stuff and mix well.
Form into cookie shapes. This batter will not spread or flatten out, so pretty much the shape you make it in is the shape it will come out of the oven in.
Bake for about 15 minutes.
Let cool and enjoy. Packaging for long-distance trips optional!
Related Posts: